As a recruitment company, an applicant tracking system is one of your most valuable tools. Is your recruitment team still manually sorting through countless candidate applications? Do important emails tend to get lost over time? Are interviews, schedules, and appointment managed across multiple applications? Have you lost and let a top-notch candidate slip through the cracks due to forgetfulness or human error?
If so, an applicant tracking system can remedy each of these costly operations and mishaps. Designed to streamline the hiring process, an ATS can save your business time by organizing data and handling manual tasks.
In the content below, explore the benefits of using an applicant tracking system and how such a system can impact your business.
What is an Applicant Tracking System (ATS)?
An applicant tracking system is a software conglomeration of digital tools, designed to simplify recruiting, hiring, and employee onboarding processes. An ATS aids in discovering, interviewing, and hiring candidates for available positions within a single place. Furthermore, applicant tracking systems often help team members accomplish important yet manual processes, such as emailing updates, scheduling interviews, and sifting through applications for the right-fit candidate.
Additionally, an ATS also serves as a centralized data repository. Recruitment companies commonly balance hundreds of applicants, emails, interview notes, resumes, and cover letters. Therefore, recalling and locating a single piece of data from a few months prior can be challenging. As a result, applicant tracking systems manage all applicant information and communication in a single platform. Doing so eliminates the frustration of filtering through stored data across multiple applications.
The Origin of the ATS
ATS platforms originated in response to a dire need.
Decades ago, businesses pasted "Now Hiring" signs to windows or posted openings in the local newspaper. Candidates faxed in required information, and hiring managers organized paperwork within a filing cabinet system. As the internet became widely accessible, businesses utilized digital job boards. Monster, LinkedIn, Indeed, and Glassdoor entered the toolbelt, and applicants flooded through a business's email.
As networks expanded, hiring managers and recruitment companies faced an influx of worldwide applications. Software, such as applicant management systems, appeared in response to the need for an efficient hiring process that screened and tracked thousands of applicants.
Applicant Tracking Systems Simplify the Entire Hiring Process
According to GetApp, 83% of recruiting professionals attribute increased hiring speed to an ATS. Nearly 80% credit an ATS for heightened candidate quality.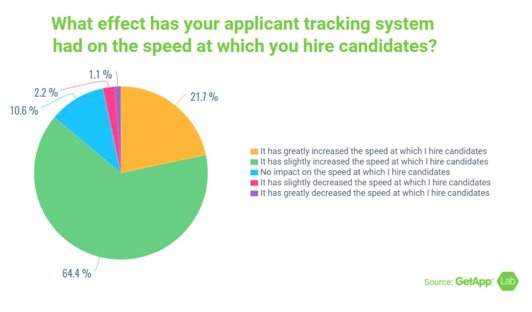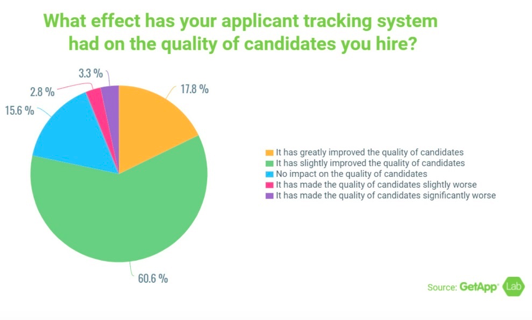 Tracking systems can dramatically save money, increase efficiency, and boost productivity – through every phase of the hiring process.
Posting
Managing position postings manually is often time-consuming and inefficient. Consider the following questions:
Do you manually post job openings on your website's career page and various job boards?
Does each job opening require updating as candidates apply, pass interviews, and are hired?
By transitioning from manually managing applicants to digitally organizing such, you can save both time and frustration. Applicant tracking systems allow for simplified postings across all desired job boards, creating a single, organized platform for role management.
Sharing
A great ATS helps you get the word out, ensuring that every new position is seen. Some tracking systems allow for streamlined sharing to social media platforms and, of course, job boards.
Applying
Certain ATS software, such as JobDiva, provides a seamless, organic user experience, guiding candidates from job posting to application. A simple process encourages potential employees to begin and complete applications on any device.
Tracking
As mentioned, applicant tracking systems serve as centralized data repositories. Applications automatically enter the system and are sorted according to predetermined standards, such as specific keywords. Once the application is in the system, the data will remain throughout the entire hiring process. Recruitment professionals can easily analyze new applications, invite various team members into the process, and manage interview notes/ questions within the system.
Hiring
At the close of the process, an ATS communicates next steps/ updates to candidates, alerting refused applicants that the job is closed or congratulating the newly hired individual. Furthermore, applicant tracking systems often help recruitment professionals compare candidates to identify red flags, such as previous job history.
Commonly Asked ATS Questions
When is my organization ready for an ATS?
As a recruitment agency, determining when to get an ATS involves honest evaluation of your current processes. Answer the questions posed at the beginning of the article:
Is your recruitment team still manually sorting through countless candidate applications?
Do important emails tend to get lost over time?
Are interviews, schedules, and appointment managed across multiple applications?
Have you lost great candidates due to forgetfulness, human error, or simply taking too long?
Consider if your team is operating at the most cost-effective, productive, and efficient manner possible. If not, important items slip through the cracks.
If you are feeling overwhelmed with the management of every position, your organization is more than ready for an ATS.
How do I communicate about an ATS to leadership? If in a position of leadership, how do I make the final decision to adopt an ATS?
Many ATS systems offer a free demonstration or trial, an extremely helpful step in the decision-making process. Consider your organization's pain points. How would the ATS address and remedy those? Present your case to leadership – or consider the decision yourself – with bottom line in mind.
What is the ROI of an Applicant Tracking System? Is it worth an initial investment?
Adopting new software or processes always requires proof of ROI. Applicant tracking systems are designed to decrease hire time and cost per hire while increasing applicant quality. After your free demonstration or trial, have these claims come to fruition? For most recruitment agencies utilizing an ATS, the investment was absolutely worth it.
How can I choose the right ATS for my organization?
Not every ATS is the same as many highlight different features and strengths. Determining the right system for your organization begins with compiling a list of your biggest challenges and identifying the best system to remedy each issue. Challenges could include interview scheduling, offer management, job post management, candidate sourcing, etc.
Regardless of your exact requirements, understanding them will aid in selecting the best system for your organization.
JobDiva: Fully Featured Applicant Tracking System
JobDiva is the premium mobile applicant tracking system, known among hiring managers and recruiters as exceptional. Powered by AI, JobDiva is designed to streamline the entire hiring process.
Combined with back-office functionalities and a full on-boarding system, the smart technology-powered candidate search gives recruiting professionals the tools they need to meet the challenges of modern age recruiting.
To inquire further, please do not hesitate to reach out to our team! Or request a demo.