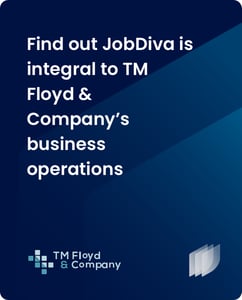 Find out JobDiva is integral to TM Floyd & Company's business operations.
When TM Floyd adopted JobDiva in 2013, they had been using other systems to optimize, streamline and manage operations. The systems they were using were not actively upgrading or enhancing their offerings to meet the needs of a high-performing organization in a high-volume market.
Other, already-implemented features in their systems did not work as advertised, and the other systems' support team responsiveness left much to be desired. At the same time, TM Floyd was ready to ascend to the next level of predictability, productivity and profitability.
Thus, in turning toward JobDiva, TM Floyd sought a platform that could work as a springboard to transformational growth and deliver a consistent influx of cutting-edge features in the following focus areas:

Talent sourcing

Job automation

Reporting and organization

Candidate outreach

Support

Remote accessibility
Download the case study to learn more.