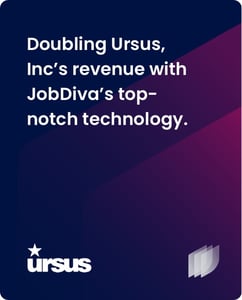 Doubling Ursus, Inc's revenue with JobDiva's top-notch technology
Ursus, Inc., a state-of-the-art staffing, recruiting, and talent development enterprise founded in 2015, needed something vital for the future success of their business -- technology. Ursus' leadership wanted to find a better technology suite. But what they found exceeded expectations: JobDiva and Ursus forged a business partnership. Rollout was only the first phase of a seamless embed of JobDiva into Ursus's processes, operations, and communications. As the partnership progressed, Ursus grew rapidly, leveraging JobDiva at scale, expanding and improving their usage dynamics as business demand increased.
Now, Ursus has doubled their revenue without increasing their costs. Read the case study to find out more.
The

Ursus, Inc

Case Study