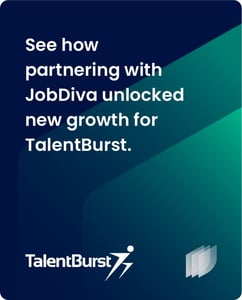 See how partnering with JobDiva unlocked new growth for TalentBurst.
A JobDiva client since 2009, TalentBurst provides professional staffing services for clients worldwide in Life Sciences, Health Care, Utilities, Oil & Gas, Engineering, and Information Technology. Founded by three ex-Monster.com executives, TalentBurst delivers premium talent at remarkable speed.
Read how JobDiva transformed TalentBurst's business with game-changing solutions, including:

Eliminating messy integrations through a standalone system that doesn't miss a beat

An aggressive product roadmap and the constant release of new features

Acceleration of TalentBurst's global presence through JobDiva's seamless system architecture
Read the case study to find out more.
The

TalentBurst

Case Study