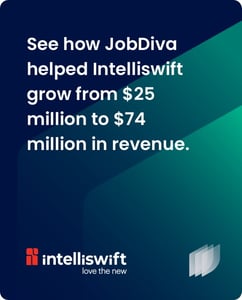 See how JobDiva helped Intelliswift grow from $25 million to $74 million in revenue.
Intelliswift Software, Inc. is a multinational IT services staffing organization headquartered in Silicon Valley with offices across the United States, India, and Singapore. Intelliswift has been recognized as the second-largest private IT staffing company and ranked among the 50 fastest-growing private organizations in California's East Bay.
In seeking a staffing ERP, Intelliswift searched for solutions that could facilitate its growth potential and enable it to manage a workforce that was expanding rapidly in size and complexity. Thus, it sought a software system that emphasized agility in recruiting/Talent Acquisition and ease in Talent Management. In their CEO Pat Patel's estimation, no other staffing ERP came close to the ease, functionality and customer service that JobDiva gladly offered and delivered upon adoption.
Read the case study to find out more.
The

Intelliswift

Case Study