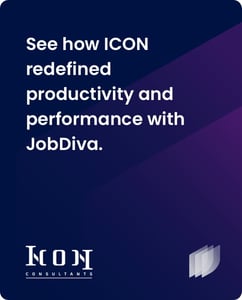 See how ICON redefined productivity and performance with JobDiva.
For over two decades, ICON Information Consultants (ICON) have been furnishing talent management, expertise, and procurement in the 50 states and Canada.
Two years after adopting our technology, ICON reported a 64% spike in their submittal rates.
How? Such stellar success rests on my factors – here we highlight a few of them:

ICON's recruiters began using a candidate sourcing system in JobDiva and maximizing source-traffic tracking, resulting in demonstrable gains in submittal speed and accuracy and in resource apportionment


With unlimited, free support and training, JobDiva enabled ICON to pursue a strategy calibrated precisely for their processes and personnel


Using JobDiva's built-in onboarding product suite, ICON could automate document assignment along with much of the administrative cycle.
Read the case study to find out more.