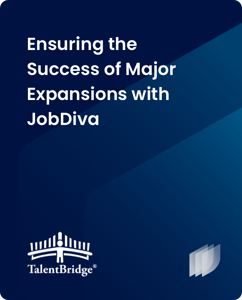 Ensuring the Success of Major Expansions with JobDiva
TalentBridge took a significant leap in their growth trajectory in 2017, when they undertook the acquisition of multiple company branches. JobDiva's role was pivotal in managing the intricate complexities of this transformation by providing a centralized data management system and flexible customization options that seamlessly unified the diverse processes across all new units. Its advanced features and intuitive interface contributed to a significant surge in efficiency, resulting in a stellar 35% enhancement in overall organizational performance. Dive deeper into this inspiring journey of growth and transformation by downloading our comprehensive case study.
Read the case study to find out more.
The

TalentBridge

Case Study